Словарь по ламинату
An overview of important laminate flooring terminology
On this page you'll find an A to Z list of everything you need to know about laminate flooring, ranging from air conditioning to wall clearance.
AC
Air conditioning
Krono Original® Laminate consists of over 90% wood-based composites (the core layer, usually HDF) and therefore has very similar properties to that of wood. Among other issues, one needs to be aware of how wood reacts to humidity. Wood flooring can absorb and release humidity, leading to swelling and shrinkage.
In order for the flooring to adapt to the environment in which it will be installed, it should be left out for 48 hours before installation. If this step is skipped (i.e. the laminate is transported from its 'dry' storage to a 'wet' home and then is immediately installed), the laminate can deform and cause the surface to be uneven.
Ideally, laminate flooring should be stored in a heated, draft-free, dry place, with a relative humidity of 75% or less and an air temperature around 18 degrees Celsius or 64 degrees Fahrenheit.
B1
This is the rating according to DIN 4076 Part 5 for flame-resistant building materials. The DIN ratings for semi-flammable and highly flammable are B2 and B3, respectively.
Krono Original® Laminate Flooring has the rating of B1.
Backing
The resin-impregnated backing layer of laminate flooring is located on the underside and is designed to compensate for the stress exerted on the overlay, décor paper, and sometimes soda Kraft paper. If one were to only have laminate on one side of the flooring panel, the weight and stress exerted from the topside, as well as moisture from the underside, would cause the entire sheet to bow, also called 'dishing'.
Cleaning and cleaning products
Generally speaking, one can easily clean laminate flooring with a damp cloth or mop and a simple soap-based cleaner, as the closed surface of the laminate usually prohibits dirt from getting deep into the flooring. It should also be noted that cleaning laminate flooring with too much water could cause unwanted swelling of the floorboards. When choosing the right cleaner, one should make sure that they do not contain oils or wax. Unlike with other types of wood flooring, oil and wax cannot penetrate the surface of the laminate flooring and can create a film on the flooring. This film can cause unwanted streaks on the surface and can show scuffmarks.
Click-Laminate
Click Laminate is a type of flooring that employs a glue-free connection and, in comparison to conventional flooring, has many advantages for installers. A special profile on the edge of boards, called tongue and groove, allows adjacent boards to snap together for a tight fit without the need for an adhesive. The easy installation and lack of drying time can decrease installation time by up to 50%. This type of flooring is also reusable, meaning that sections can be removed and re-installed elsewhere without damaging the individual boards. The tight-fitting tongue and groove profile of the floorboards ensures that there will never be gaps between two pieces.
Core layer
The core layer of laminate flooring consists of one of a variety of wood-based composites used to support the outer layers. These layers can be laminates or different types of veneers. HDF boards are commonly used in laminate flooring production and range from 6 to 8mm in thickness. Click Laminates have a core layer that is made with a higher amount of resin and therefore resist moisture effectively. Chipboard does not have the same technical characteristics, cannot handle the same loads, and is more difficult to install than HDF boards, clearly making them inferior and numbering the days until chipboard is no longer the market leader.
Décor paper
Décor paper is a combination of protective coating and faux wood design, such as beech or maple, used to cover laminate flooring. This printed-paper is impregnated with resin, heated, and firmly pressed onto the topside of laminate flooring sheets.
DIN EN 13329
This European standard specifies the characteristics, testing methodology, and other requirements for laminate flooring. The standard contains a classification system, which applies practical standards for areas of use and levels of use and serves as a guide that tells the consumer which type of flooring should be used in certain situations.
The following are some requirements specified by the standard:
Dimensional changes caused by relative humidity
Height difference between adjacent floor boards
Width of gaps between adjacent flooring sections
Rectangularity of the boards
Light fastness
Soundness – see appendix Service classes
This standard allows the consumer to make an informed decision about the product they are purchasing.
DPL (Direct pressed laminate)
Direct pressed laminate (DPL) flooring is the most commonly used type of laminate flooring, and is available in classes 21-32. DPL flooring is constructed by combining the following layers: overlay, décor paper, underlay, and backing layer. During manufacturing, these components are fused through heat and direct pressure, with the side profile being created after a cooling phase. This profiling is done according to the customer's needs, i.e. width and length. DPL flooring is produced with two types of profiling; tongue and groove or the Click System (sometimes called the Loc System)
DPL Laminate Flooring: direct coating
Direct coating – all four components are fused in one step
1. Overlay: wear-resistant, durable, and easy-to-care-for top layer
2. Décor paper: aesthetic aspect of the flooring
3. HDF: wooden underlay – the foundation of laminate flooring
4. Backing layer: moisture resistant layer to help maintain form
Durability rating
Laminate flooring's durability rating indicates its resistance to abrasion, as well as normal wear and tear. Values are listed as AC 1, AC 2, etc., according to DIN EN 13329:2006.
Current Values
Rating
AC 1
AC 2
AC 3
AC 4
AC 5
IP-Value

≥ 900

≥ 1500

≥ 2000

≥ 4000

≥ 6000

Old Values
Old IP-Value
2000
4000
2500
10000
15000
Old classification
W 1
W 2
W 3
W 4
W 5
To determine the durability rating of laminate flooring, a test piece of flooring is mounted inside a testing device and set against sandpaper-covered wheels. The wheels are run over the flooring and the damage level is checked after each 100 revolutions. Every 200 revolutions the sandpaper on the wheels is replaced. The IP value is determined to be the point at which wear from the sandpaper is first detected.
E1
This is the symbol to indicate emission class. The emission classes denote the amount of formaldehyde released from wood-based materials. This distinction is made between classes E1, E2, and E3, with the class E1 having the lowest amount of emission. Classes are assigned based on testing. In this scenario, a test piece of wood is subjected to moving air kept at a constant temperature inside of a testing room. The amount of formaldehyde that is released is then measured and given a value in parts per million (ppm). This value must not exceed 0.1 ppm. Common laminate flooring contains such a small percentage of contaminants that they are generally labelled as 'contaminant-free'.
see Formaldehyde
Krono Original® laminates are in the E1 emission class.
Electrostatic charge
Electrical charge carriers, or electrons, will jump from objects to people under certain circumstances, and in doing so will administer a small shock. These electrons are produced when non-electrically conductive materials are separated from one another. The causes of static electricity can be a dirty floor, low humidity (especially during winter), or electrically insulated materials like shoe soles and clothing. To counteract this, one can use chairs that conduct electricity, use a humidifier, use special cleaning agents with a high proportion of surfactants, or wear electrically conductive footwear, as well as clothing with few synthetic materials.
Expansion joints
These joints must be used when the width and length of the flooring to be installed exceeds 8 metres. This is necessary as the weight of flooring coupled with the additional weight of furniture causes swelling and contraction over time.
Usage examples: see Expansion profiles
Footfall
Footfall is a type of mechanical vibration or structure-borne noise. It is created by walking on flooring and is transmitted and magnified by surrounding features, such as walls and ceilings. The sound produced is measure in decibels (dB). To dampen the sound created by walking on laminate flooring, sound insulation is placed underneath the floorboards. The complete flooring structure is identical to what is shown in the sketch. There are various types of sound dampening material: 2mm "Noppa" foam, cork mats and tiles, felt mats and tiles, or the Sound Absorption System, a Krono original.
Formaldehyde
This is a colourless, pungent-smelling gas. Formaldehyde is a prime component of the resins used in the production of synthetic wood products, such as laminate flooring and chipboard. Irritation of the eyes, mucous membranes, and respiratory tract are all caused by exposure to formaldehyde. The upper limits of formaldehyde emission are between 0.2 and 0.1 ppm (parts per million). Due to increasingly more stringent regulation, the amount of formaldehyde that can be used in resins during laminate flooring manufacturing has been restricted to the point where flooring can generally be labelled as 'formaldehyde free'.
see E1
Glue
Glues are adhesives made of synthetic, organic, or animal materials, with water acting as solvent or dispersant. When gluing the tongue and groove joints of laminate flooring it is recommended that one uses D3 or D4 glue. D3 is the value and abbreviation given to glue that is suitable for interior use that sees only short-term exposure to water and condensation, or long-term exposure to humidity. For this reason, D1 and D2 class glues are not suitable for interior laminate flooring.
Be advised: glue should only be applied to the topside of the joint!
HDF (High Density Fibreboard)
HDF is a type of wood panel that is made from wood fibres. These panels are mainly used as a substrate for laminate flooring as they have a very homogenous structure and non-porous surface. HDF can therefore be directly printed upon, painted, or sealed. In comparison to MDF or chipboard, HDF boards have a higher density, which in turns means they have a higher tensile strength. These boards are also much more resistant to swelling and deformation. MDF and HDF are very aesthetically similar.
Heated floors
Due to its high material density, laminate flooring is ideal for those wishing to install in-floor heating. Laminate flooring conducts heat very well. As hot water floor heating is generally installed on a screed base (see Screed), one must perform a moisture test before installing the laminate boards. Additionally, one should conduct a heating test before laying the laminate flooring. Before installation of the laminate layer, a sheet of polyethylene must first be laid. One needs to also install a sound-dampening layer of high material density, usually made of felt or rubber.
Krono Original® Laminate flooring is suitable for electric floor heating systems! It is very important that the maximum surface temperature of the heating element does not exceed 27°C. This should be monitored and controlled by appropriate heating controls. Furthermore, one should never completely cover a heated floor surface as this causes rapid temperature rise due to heat accumulation.
HPL (High Pressure Laminate)
This is considered to be the 'Mercedes' of laminate flooring. Based on its highly durable surface, HPL falls between the classes 32 and 33. HPL flooring is constructed with five layers: overlay, décor paper, multiple soda Kraft layers, wooden core, and backing layer. These components are combined together in two stages using both heat and pressure. In the first stage, the overlay, décor paper and soda Kraft layers are pressed together. The second stage sees the combination of the first stage and the wooden core and backing layer, both designed to support the underside of the laminate board. Following a cooling phase, the panels are then cut and profiled to order. HPL flooring is produced with either the simple tongue and groove joint or the Click-or Loc-System.
HPL – Laminate flooring: high-pressure laminate
HDL production in three stages
1 – Overlay
2 – Décor paper
3 – Core layer
4 – Laminate layer: 0.6mm of durable, easy-care surface
5 – HDF core layer, the foundation of laminate flooring
6 – Backing layer for vapour resistance and support
1st Stage
2 overlay layers
1 layer of décor paper
3 core layers
These are combined under pressure to a form a decorative laminate layer.
2nd Stage
1 layer of backing
3 core layers
These are combined under pressure to form the backing, or support, layer.
3rd Stage
Decorative laminate layer
Backing layer
These are also combined under pressure to produce complete laminate flooring.
Installation direction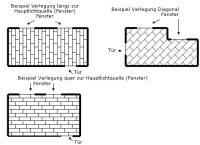 The direction in which the floorboards are installed is a matter of taste. Generally we recommend that the flooring be installed in line with the light source and perpendicular to the direction of movement. Often times this is not possible as the doors and windows do not face the same direction. If this is the case, one simply needs to decide on one's own in which direction to install the flooring. Laminate can also be installed diagonally. If the sub-floor is made of floorboards, the laminate flooring needs to be installed perpendicular to these boards.
IP
Laminate classes
These classes serve to help the consumer choose the right product and to assist manufacturers in classifying their products. Laminates are classified by their resistance to abrasion and impact as well as colourfastness. The classification offers a recommendation to the consumer about the appropriate uses for each type of laminate (home vs. commercial use). The basis for these classifications is the DIN EN 13329.
The following classification chart shows area of use, intensity of use, types of wear and examples of use, and is labelled with easy to understand pictograms:
Class
Area of use
Intensity of use
Description of use
Examples of use
Domestic
Private use areas
moderate
light use
bedrooms
guest rooms
Domestic
Private use areas
average
normal, everyday use
living room
dining room
hallways
Domestic
Private use areas
high
high-traffic, intense use
Stairways
entry halls
kitchen
Commercial
Private and public use areas
moderate
light use
Hotel rooms
conference rooms
small offices
Commercial
Private and public use areas
average
normal, everyday use
Kindergarten
offices
waiting areas
hotel lobbies
stores
Commercial
Private and public use areas
high
high-traffic, intense use
Hallways
large offices
shopping malls
classrooms
Overlay
PE Film
Pollutants
The amount of solvents, formaldehyde, and other pollutants contained in laminates are so low that laminate flooring is considering to be 'low-emission' or 'emission-free', earning it the E1 rating.
Skirting boards or baseboards
These are the perfect solution for a smooth transition from laminate flooring to the walls. Skirting boards are aesthetically pleasing as they hide small gaps between the flooring and the walls. Baseboards come in various colours and designs, as well as shapes and sizes. These boards are fastened to the walls with screws, nails, glue, or clamps. Generally, dowels are inserted in the wall at 30 cm intervals, allowing the baseboard to be easily attached to the wall. Using this type of connection allows the skirting boards to removed and reattached without causing damage, in order to allow for easy painting and wallpaper application.
Sound Absorption System (S.A.S.)
S.A.S. is based on brand-new technology. This high-tech coating is only 0.3 mm thick and is made of a special thermoplastic material that helps to convert sound energy into heat energy. Sound produced from the flooring can be reduced by up to 10 decibels through use of this technology, which equates to a 50% reduction. Another advantage of this material is its thermal conduction properties, making it ideal for use over water-based heating systems. There is also no need for additional sound-dampening layers, such as Noppa foam. Moreover, S.A.S. is considered to be environmentally friendly.
Sub-floor
The sub-floor beneath the flooring must be made of appropriate material such that the laminate flooring can be installed as per the manufacturer's instructions. Suitable surfaces for laminate flooring include plaster, concrete, asphalt, wood, chipboard, wooden floorboards or other existing substrates comprised of hard materials, like stone, ceramic or PVC.
Sub-floor flatness
The flatness of the sub-floor is important when installing laminate flooring. Sub-floors with surface height difference greater than 3mm must be sanded and spackled according to DIN 18202. The flatness of a sub-floor can be determined using a level or a flat ruler.
Sub-floor moisture
One can always count on having sub-floor moisture, but this is more common with mineral surfaces such as screed (cement screed, anhydrite screed) or with sub-flooring covered with a wearing surface, like stone, ceramic or plastic. The moisture content of these types of sub-flooring can be measured with a "CM measuring device".
Cement screed < 2.0 CM per cent
Heated cement screed < 1.8 CM
Anhydrite screed < 0.5 CM per cent
In order to prevent moisture from getting into laminate flooring from the sub-floor, it is necessary to install a vapour barrier film underneath the laminate. If the sub-floor is made of wood or wood-based composites, one does not need to install a vapour barrier.
Sub-floor strength
Installing laminate flooring on a hard, strong surface is key. Before beginning to lay laminate flooring, ensure that the surface does not move when loaded, either vertically or laterally. If you install laminate flooring over a soft sub-floor, you'll experience compression and flexion. Carpeting is not a suitable surface for laminate flooring.
Surface
Unlike parquet or veneer flooring, the surface of laminate flooring is not comprised of a coating of oil or wax applied to wood. Laminate flooring has a thin top layer of resin-impregnated paper (usually melamine resin), which is called the overlay. Together with the décor paper, the overlay is pressed on the backing layer, usually made of HDF.
During the fusing process, the resin coated overlay is pressed onto the backing layer using high pressure and heat, creating a solid, sturdy surface.
Thermal conductivity λ
Thermal conductivity, represented as λ, indicates the amount of heat that is transferred per second over a length of one square metre at a temperature difference of one degree. The λ value of construction materials is required to calculate the thermal insulation of all building elements. The λ values of chipboard or fibreboard (sub-floors and laminate flooring panels) are lower than those associated with solid wood or other materials of the same density. Due to its good thermal conductivity, laminate flooring is ideally suited for use with water-based underfloor heating systems.
see Heated floors
Tools
Having the proper tools handy will make installing laminate floors very easy. You will need an installation kit that consists of a tapping block, crowbar, spacers, and a paint scraper or putty knife. You will also need a hammer, a saw (preferably a jigsaw), glue, a rule or tape measure, an angle, a pencil, a drill for attaching the dowels for the baseboards, adhesive tape and a carpet or utility knife for the PE sheets or sound insulation.
Vapour barrier / vapour seal
Vapour barriers and seals are layers made of plastic (mostly polyethylene) and are designed to stop moisture from entering the laminate flooring from the sub-floor, often times made of screed. A vapour barrier is necessary when the sub-floor is made of screed, concrete, or asphalt, as these materials can attract condensation under the right conditions and transmit this moisture to the flooring above. The vapour barrier is only effective when installed on the warm side of the sub-floor, meaning that it must be placed under the laminate flooring. Extending approximately 10cm up the adjacent wall, the vapour barrier is essentially a trough underneath the laminate. The vapour seal films are laid next to each other, overlapping by around 20cm and affixed with tape.
see also Installation Instructions
Wall clearance
The distance between the walls and the base laminate flooring is important and must be properly considered and calculated. This distance should be between 12 and 15mm and will be determined by the provided spacers. Laminate flooring is wood-based flooring that shrinks and swells over time with changes in humidity. It is therefore very important that the flooring has room to "work". This will help to avoid damage caused by swelling in the future. Damage can also occur from the following: open joints, swelling parallel to the longitudinal joints, compression and subsequent cracking of the decorative layer, and rises in the floor.
Waterproofing
Waterproofing the backing layer of laminate flooring is very important, especially because the individual boards are not connected together by glue. This waterproofing is done by increasing the amount of resin used in making the HDF layer, as well as by introducing water-repellent agents such as paraffin wax during production. An additional seal can be created by using glue to connect the laminate floorboards or by using the Clickguard system.
Conventionally glued flooring joints serve two purposes: adhesion and waterproofing. It should be noted that waterproofing a laminate floor once installed is not recommended, as the use of film-forming products can be difficult to apply and subsequently remove. Streaking is a common occurrence when using such products.
Wet rooms
These are rooms such as bathrooms and saunas. Based on their inherent high levels of humidity, these types of room are not designed for laminate flooring.
Wood-based composites
This is a collective term applied to various types of products formed by compressing wood chips or fibres with the aid of glue or resin. Composites are chipboard, Medium Density Fibreboard (MDF), High Density Fibreboard (HDF), or plywood.