Cleaning and care of laminate flooring
Learn how to take care of your laminate flooring properly
KronoOriginal® high-quality laminate flooring has a lifespan of several decades. Basically the following applies: Laminate floorings are extremely robust and low-maintenance; nevertheless correct floor cleaning is important. Small marks can be quickly and easily removed with a damp cloth. To ensure that your laminate flooring looks as good as new, please apply the following care instructions:
In particularly soiled areas, such as in the entrance area, dust control mats protect against wear.
Furniture feet should be provided with felt glides to prevent scratches: Please note that failure to do so could invalidate your warranty. Please check the felt glides regularly and replace them if necessary. Even felt glides are subject to wear.
Office chairs with castors should be equipped with soft chair castors made of rubber (DIN EN 12529:1998, 5.4.4.2, type W) 
Avoid stagnant moisture in any case. Take special care with flowerpots, vases, and wherever there are taps.
Please ensure during cleaning that the cloth is never wet, but only damp.
If you clean your laminate flooring with cleaning agents, you must make sure that no residues remain on the floor.
The right care product for your KronoOriginal® laminate
Please never use care products containing wax or oils. These cannot penetrate into the laminate flooring, so they form a film on the surface that attracts dirt like a magnet.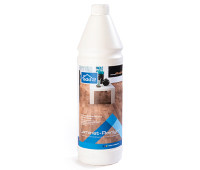 For regular cleaning, we recommend Add2 laminate cleaner. If you use cleaning solutions or cleaning agents, you should always dry the floor so that no residues of the cleaning agent remain on the floor.
Beware of oils in cleaning agents
For parquet flooring, the exact opposite applies: This must be treated from time to time with oil or wax. But with laminate flooring, this is the very treatment you should avoid! No polishing, oiling, or waxing is needed. This damages the floor more than it helps, because laminate has a closed surface made of an overlay impregnated with melamine resin. Cleaning with cleaning agents containing oil or wax or even direct polishing produces a lubricating film on the laminate, since these care products cannot penetrate the flooring. This results in smears due to wiping and run marks when walking.
Unsuitable cleaning agent
The following cleaning agents are not suitable for cleaning laminate flooring:
Wax
Bleach
Strong solvents
Abrasive polishing agents: these can damage the surface coating.
If you use cleaning solutions or cleaning agents, you should always dry the floor so that no residues of the cleaning agent remain on the floor.
Cleaning of laminate flooring made easy
Basically, you can easily clean your laminate flooring with a wipe, mop, hair brush, or a vacuum cleaner (suitable for hard floors). Non-adherent dirt can be easily removed with a static cloth or with a vacuum cleaner. Footprints and heavy soiling can be removed just as quickly and easily: We at KronoOriginal® recommend wiping with a damp cloth. Please ensure that the cloth is well wrung out.
Tips on cleaning laminate
In addition to the correct cleaning agent for laminate, the following tips are also important for cleaning:
Remove coarse dirt, dust, or pebbles in advance with the vacuum cleaner to prevent scratches when wiping.
Next, wipe the floor. Be careful not to wipe it too moist. When the expert says "damp" in this case, it means to use only as much water as if the floor had been moistened by descending mist.
If you want, you can wipe the laminate flooring dry afterwards.
The cleaning instructions are based on practical experience. Although KronoOriginal® cannot assume any liability for completeness and accuracy, the tips and tricks on these pages are kept up to date by ongoing checks and tests.
Laminate floor maintenance tips
So that your laminate looks new for a long time
The resistant and durable floor coverings KronoOriginal® withstand a lot and take on a lot in everyday life: Abrasion and wear are virtually unheard of.
Cleaning stubborn stains and soiling from laminate flooring
Abrasion from rubber soles: dry brush them off mechanically - for example, with a nylon pad
Milk, beer, or wine: remove immediately with an absorbent cloth or if the dirt is already dried, wipe off with a suitable laminate cleaner and dry later
Nail polish, lipstick, or ink: mop up with a cloth soaked in solvent
Dents and scratches
Even heavy furniture will not leave any dents on a Krono Original® laminate flooring. To prevent damage to the laminate flooring, furniture should not be pushed, but lifted. For those who like to push their chair and love their laminate flooring, we recommend using felt pads on the feet of the chair. For office chairs, please use soft chair castors in accordance with DIN 68131 [marking W].
Light sensitivity
Laminate floors from Krono Original® are light-fast in accordance with level 6 of Blue Wool Scale, which corresponds to EN 13229 and means that: The colour of your Krono Original® flooring will remain unaltered. It cannot be used for the upkeep of parquet flooring, which will darken over time.
More instructions on cleaning of laminate flooring can be found at: https://www.laminat-installation.com/cleaning-care