Different areas of use for laminate
Krono Original® laminate flooring, the foundation of beautiful living
It is easy to clean, does it all and looks like real wood: Krono Original® laminate flooring. Discover for yourself the diverse areas for use and décors of Krono Original® laminate flooring
The positive characteristics of laminate cannot be denied:
Easy to clean – laminate is easy to clean and requires relatively little care.

Slip-resistant – A surface treatment has special structures that reduce the danger of slipping on the laminate floor even in damp conditions.
Allergy friendly – laminate has a sealed surface which dust and other allergy-causing substances cannot find any grip on. They can simply be vacuumed or wiped.
Sustainable – Krono Original® laminate consists of 90% wood from sustainable forestry and does not pose a risk to the indoor climate, thanks to its low-emission processing.
Simple and quick to lay – thanks to the Krono Original click systems.
Natural surface – thanks to high-quality high pressure and authentic embossed structures, Krono Original laminate flooring not only looks as if it were made of real wood, but it also feels that way.
Cost-effective – laminate is cheaper than a real wood flooring made of parquet.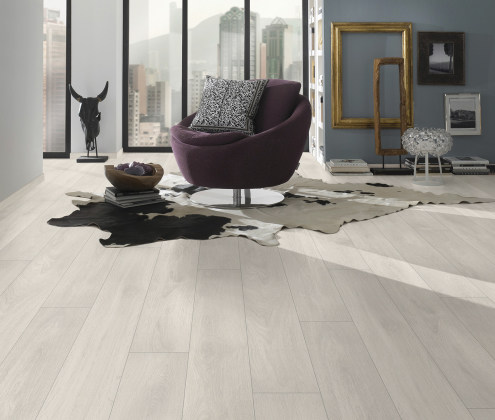 You can see – laminate has many great characteristics that make it the optimal flooring in the home or in commercial buildings. With the large selection of different laminate floors, it is not surprising that there is a right laminate available for every area of use.
Discover more about which laminate flooring is best suited for the various uses in your home. After all, a floor covering in frequently used rooms such as the hallway has to meet very different requirements compared to the living room or the basement. A laminate floor must be much more robust in the children's room or a room that is used as an office than in the bedroom.
The décors of modern laminate are at least as diverse as the areas of use. Turn the rooms in your home into distinctive oases of well-being. With the Vintage Classic Laminate 5953 Chantilly Oak, you can brighten up a dark hallway and make it friendlier. In addition to classic and natural wood, you can also choose laminate in tile-look. So your flooring looks very similar to a natural stone floor, but has the positive, homely characteristics of laminate.
Let the variety of Krono Original Laminate décors inspire you and help you find exactly the floor you desire.