Features of Krono Original® laminate flooring
Krono Original® – beautiful laminate flooring with character!
Good looks alone are not enough – a floor has to be able to do more than just look beautiful! Because you would like to spend a long time with your laminate flooring - and so its inner qualities have to win you over as well!
Are you looking for a floor that is durable, goes along with all you do and still looks outstanding? With Krono Original® you have found what you are looking for! The laminate flooring from Krono Original® will win you over with numerous features that make life with your flooring hassle-free and more beautiful:
Guarantee All Krono Original® laminate floors are put through a series of rigorous tests in order to comply with international quality standards, which is why we grant an extensive residential warranty with every product. You can be rest assured that, whatever range you choose, it's going to be easy to maintain and will give you enjoyment for many years to come.
Stain and imprint resistant Whatever you might spill, be it red wine, oil or coffee, don't panic; it can be easily removed. Krono Original® is also abrasion resilient, robust and proven to be one of the most resistant floorings available, even heavy furniture won't leave an imprint. Please use felt pads for your furniture and ensure that swivel chairs are fitted with soft castors.
Twin Clic The Krono Original® Twin Clic system has been specifically designed to make fitting your laminate flooring as easy and hassle free as possible. The Clic and groove profiles allow individual panels to be joined together quickly with minimal tools or complications.
1clic2go Even in hard to reach places like corners, doors and under radiators, the ingenious "1clic2go" system makes installing Krono Original® floors simpler and faster than ever. The tongue & groove joint along the length of the panel is placed in position from above and fixed flush with the adjoining panel. The panels are then securely interlocked as the patented "1clic2go" beading latches into position with an audible click. Quick. Easy. Secure.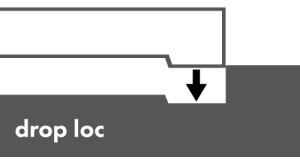 Drop Loc The Krono Original® "Drop Loc" system is a classic locking system with clickable short and long edges. The tonque & groove joint along the length of the panel is placed in position from above. It is an easy installation with minimal tools.
Multi Patent Indemnity Enjoy 100% security with multiple patent protection for all our products! In addition to the Kronoflooring patents, this Multi Patent Indemnity certificate provides extensive protective rights for VÄLINGE INNOVATION AB international and a choice of UNILIN patents worldwide. This involves assured, unrestricted product use of the glue-free click system for the trade.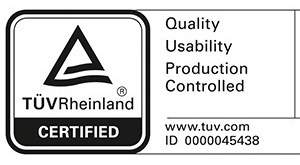 TÜV Regular independent quality checking via external testing and auditing of the production process as part of the quality assurance system of Kronoflooring.
Anti-slip classes Safety is something we put great emphasis on. Classification in antislip classes (R9 and R10) has been achieved through specially developed surface structures, which address the requirements for floor coverings in the workplace and commercial areas where a high risk of slipping is present.
Blue Angel Krono Original® has been awarded the Blue Angel eco-label, a German quality seal that provides a guarantee of protection for people and the environment.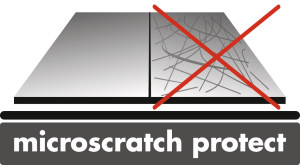 Microscratch Protect This especially durable surface will protect your floors even better against microscratches which can occur through heavy use. With Microscratch Protect, your flooring will have the best possible protection against everyday wear and tear.
Eco Friendly All Krono Original® floors are environmentally friendly as standard made of 95% wood sourced from sustainably managed forests. What's more, the entire production chain – from raw materials to the finished product – has been certified and is regularly inspected by independent experts, ensuring peace of mind for you – and protection of our environment.* Statement on level of emission of volatile substances in indoor air posing a toxic threat during inhaling – on a scale from A+ (very low-emission) to C (high-emission).
A.B.C. Anti Bacterial Coating We know that keeping your floor as clean as possible will be important to you and that means minimising the risk from germs. We can't see germs, but we all know the problems they can cause if left unchecked. Allergies can be aggravated and illness can result, which is why Krono Original® has introduced A.B.C., Anti Bacterial Coating that does not allow for germs to grow on your flooring. Germs can be present on a floor from many sources such as shoes, spills or animals etc, but Krono Original® A.B.C. Anti Bacterial Coating, works alongside a hygienic cleaning regime, to create peace of mind and a healthy environment.