Laminate for the office
Reschedule your everyday office life on laminate flooring
If you are looking for the right flooring for the office, the KronoOriginal® is the right choice! Laminate not only enhances the office visually, but it also meets all the requirements of everyday office life. However, pay attention to the service class of the laminate: Depending on the use of the floor, a higher service class is necessary. If you have found the right service class, you have the freedom to choose between different decors! Whether light or dark, with a calm or intensive grain, classic or special: you will find the suitable laminate for the office at KronoOriginal® – according to your taste!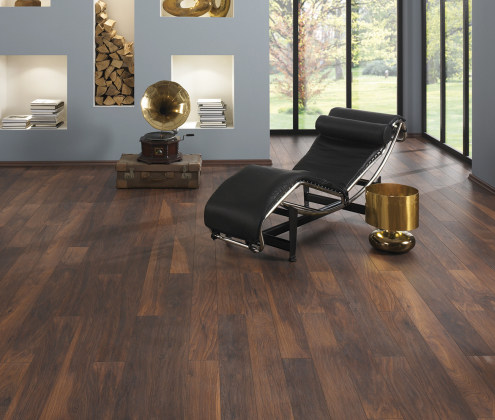 Is laminate flooring for the office robust enough?
Time and again, employees walk through the office for meetings, to fetch a coffee or to copy documents. Customers as well as employees enter the office wearing their outdoor shoes and bring in dirt. Office chairs are rolled back and forth every day, here and there a pen falls onto the floor. An office floor must withstand many strains. Laminate is highly recommended for the office, since it its robustness is convincing. Even though it is predominantly made of wood, laminate is much stronger than parquet flooring. This is because the hard surface protects the flooring from scratches and dents and the HDF carrier material with integrated Aqua Stop system also protects against swelling, in case a coffee cup topples over.
Laminate for the office – this is how you find the right service class!
Different service classes indicate the suitability of the laminate for different living areas. For the office, select a laminate with service classes (NK) 31 to 33. The difference is in the degree of use:
NK 31: This service class describes the use of laminate in commercial areas with low usage – ideal for a small office with a few employees.
NK 32: Laminate with this service class is suitable for commercial areas with medium usage – for example, in a large office with several employees.
NK 33: This service class is intended for commercial areas with intensive use – especially for large offices with frequently used conference rooms, etc.
Stylish laminate floors for the office
Laminate lends your office exactly the style you want. Do you prefer a rustic atmosphere, mixed with modern elements? Our floors are ideally suitable, because the product lines offers a range of decors with an intensive structure. Are you perhaps attracted more to a more restrained look? Then select a laminate flooring with a tiled appearance – such as our Impression line. As you can see, practically any interior style is possible with our KronoOriginal® laminate flooring!
Take a look at our product lines and select the appropriate laminate for your office.
Laminate Flooring for further rooms: