Laminate for the basement
Decorate your basement rooms with laminate
Does your house or apartment have large basement spaces? Do not leave this unused: This is because basement rooms are ideal as laundry rooms or ironing rooms, party rooms, man caves or dressing rooms. However, the rooms in the basement are often not very appealing: Gray walls, cold concrete floors and unsightly ceilings often do not lend any great charm to the basement. But you can change this quickly and easily: Decorate the basement with laminate and designer flooring Krono Xonic from KronoOriginal®! Many special characteristics make this not only a practical and aesthetically pleasing flooring for your house and apartment, but also for the basement!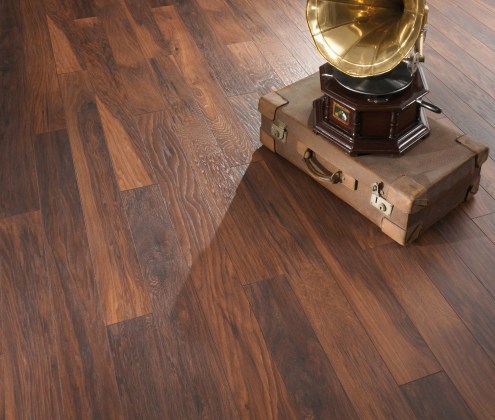 Laminate in the basement – is that possible?
Basement rooms are mostly cold and uncomfortable. But laying a laminate flooring here is still possible! It is important, however, to use a suitable insulation. A moisture barrier layer in the basement is a must! Apart from that, much can be said in favor of laying of laminate in the basement: It is robust, it withstands a wide variety of loads without any problems. Longevity is another characteristic that distinguishes the KronoOriginal® laminate. Therefore you also have up to 30 years' warranty for the laminate flooring. In addition, you do not need to invest in the work to be done by a craftsman: You can also easily lay the laminate in the basement yourself – our simple click-system makes this possible.
Decorate your basement with KronoOriginal® laminate
You can even convert your basement into a cozy retreat by using laminate. Depending on your taste and style you will be presented with an interesting choice of options: Are you planning to convert your basement into a cool party room? Then select the Vintage Classic product line in the Bakersfield Chestnut decor – with that, you will achieve a casual ambiance. Would you like to use the basement as a laundry room in which you can iron and sew? Then choose laminate flooring in a quiet decor such as. For a trendy man's lounge with antique leather chairs, a pool table, and other things that make a man's heart beat faster, our stylish laminate floors Super Natural Classic in Loft Oak decor will be suitable. This conjures up a slightly rough style of a floor which has stories to tell.
With KronoOriginal®, you will find many other product lines with beautiful decors which will transform your barren basement into an oasis of comfort. Take a look at our product range, decide on your favorite and buy your desired laminate for the basement in one of our stores!
Laminate Flooring for further rooms