Krono Original® floors are tested, certified and full of character.
Warranty All Krono Original® laminate floors are put through a series of rigorous tests in order to comply with international quality standards, which is why we grant an extensive residential warranty with every product. You can be assured that whatever range you choose, it will be easy to maintain and provide many years of enjoyment.
Handscraped A breathtakingly elegant and realistic oiled wood finish, with gentle irregular undulations, inspired by traditional Amish craftsmanship. The soft matte surface replicates the hardwood area of solid flooring gently polished over time due to footfall. Meanwhile the deep matte pores are highlighted with glossy accents.
AC Rating All Krono Original® flooring is suitable for residentialuse, except for rooms with high humidity or moisture content. AC3 or AC4 is suitable for light to moderate use. A higher AC rating is recommended for heavy traffic areas. AC5 is recommended for most commercial applications.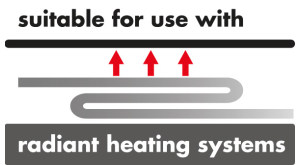 Radiant Heating Systems Krono Original® Laminate Flooring is suitable for use with under-floor Radiant Heating Systems if the heating element is installed into wood or concrete subfloors. Simply follow the instructions concerning temperature settings prior to and after installation.
Stain and impact resistant Whatever you might spill, be it red wine, oil or coffee, don't panic; it can be easily removed. Krono Original® is also abrasion resilient, robust and proven to be one of the most resistant floorings available, even heavy furniture won't leave an imprint. Please use felt pads for your furniture and ensure that swivel chairs are fitted with soft castors.
Beveled Edge A traditional beveled edge adds depth and dimension to laminate flooring. Each plank features a four-sided bevel that resembles an authentic, natural hardwood appearance.
Authentic Embossed The high quality Authentic Embossed structures feature elegant contrasting and a thrilling multi-gloss effect that emphasises the depth of the structure with matte and gloss elements that reflect the light differently. The synchronous pores follow the grain of the decor, meaning they flawlessly mimic the character of natural wood.
Realistic Tile Design Krono Original® stonelook laminates feature a bevel that replicates real grout lines, offering flexibility to design in a grid or staggered pattern.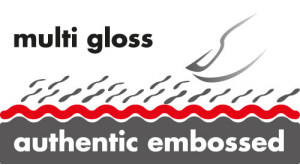 Multi Gloss Natural products live not only from the color play, but from the way in which light and shadows are reflected from the surface texture. The use of multiple gloss levels in the surface finish allows us to add nature's delicate nuances, reflecting light differently as you move around the room. Each surface is tailored to suit the character of the material type; incorporating features like deep matte, silky sheens and glossy accents for the ultimate in realism.
Eco Friendly All Krono Original® floors are environmentally friendly, with 95% of wood sourced from sustainably managed forests. What's more, the entire production chain – from raw materials to the finished product – has been certified and is regularly inspected by independent experts, ensuring peace of mind for you – and protection of our environment.