Damp room laminate – the waterproof floor covering for your kitchen or sauna
Laminate is no doubt one of the most widely used floor coverings and can be found in most rooms. So-called humid rooms such as the kitchen, bathroom, sauna or laundry room, however, have so far been considered a: laminate-free zone. But times have changed! With the moisture-proof laminate such as the Krono Xonic from Krono Original®, you can gain all the benefits of laminate flooring even in rooms with high humidity and where there might be splashes of water. Even isolated incidences of water splashing, like those that occur in the vicinity of showers, are not a problem for this water-resistant laminate.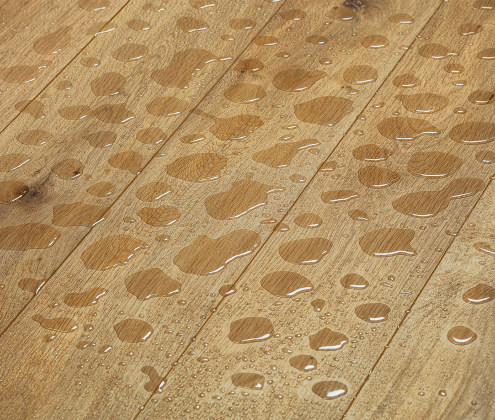 Laminate in damp rooms – is that even possible?
When you think of laminates in damp rooms, in your mind's eye you immediately see visions of swollen joints and waves on the floors. So you could come to the conclusion that it is ACTUALLY not a good idea!
This is especially true if you want to use normal laminate for this purpose. Regular laminate panels consist of about 90% of wood. The HDF carrier plate makes the base from high-quality laminate, but it has a strong swelling capability. This makes it particularly prone to ingress of water, in spite of the thin but durable covering layer. High levels of humidity are present in the kitchen and laundry room, but especially in damp rooms, such as bathrooms or saunas, and water is often splashed. Even if you wipe up the splashes of water or puddles quickly, there is far too great a danger that moisture will penetrate into the panels; this causes swelling especially in the area of the joints and the floor becomes irreparably damaged. For this reason, we strongly advise against using regular laminates. But at the same time we offer you an ideal solution as replacement: Damp room laminate!
Damp room laminates, the ideal water-resistant flooring
Thanks to Krono Original®, you do not have to forego of the cozy atmosphere of laminate flooring even in rooms which encounter moisture more frequently: 
Through constant development, we have managed to manufacture design floors, which appear to be very similar to laminate or parquet flooring, but thanks to the special processing, do not have the disadvantage of having the capacity to swell which conventional laminate flooring has. Instead of having to struggle with wet floors which swell often, alternatively opt for the Krono Xonic damp room laminate. This flooring is suitable for damp rooms and combinse the many advantages of laminate. These attractive floorings, designed especially for damp rooms, are available in a variety of designs from specialist retailers: The natural wood versions appear so similar to parquet that you can barely tell them apart. 
You can easily lay the moisture-proof laminate as you usually do using the click system. In order to protect the surface against damage caused by water, a seal on the expansion joints is provided. Silicone is the ideal material for this, because it impregnates and prevents the ingress of liquids.
Alternatively, you can select the vinyl and moisture-proof laminate in tile look, since these imitate stone or Ceramin flooring, but have the distinct advantage that the floor is more shock-resistant than real files and your feet feel warmer on them.
Krono Xonic – the water-resistant flooring made of hard vinyl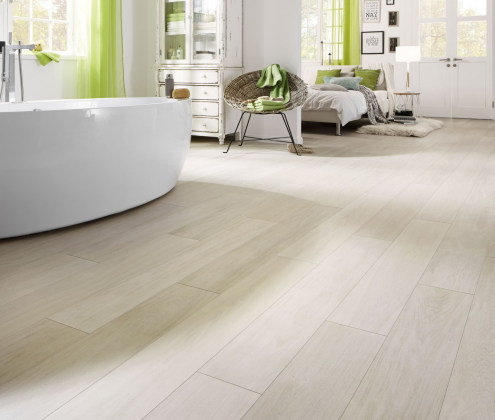 Krono Xonic hard vinyl floors have been developed especially for use in damp rooms, such as the bathroom or the laundry room. They are service class 23 or 34 and are therefore suitable for private and commercial areas meant for heavy usage. Thanks to state-of-the-art HD digital printing, the Krono Xonic décor is visually indistinguishable from a ""normal"" laminate flooring. Depending on your choice, it has the natural 3D look of wood or tiles. You have a wide choice of various décors – whether light or dark wood décor, tiled or stone floors – with Krono Xonic, you will bring the aesthetics of laminate into your damp room. 
The benefits of water-resistant hard vinyl are obvious:
Moisture cannot penetrate the flooring and thus there are also no distortions or swellings, as it would be the case with wooden floors. Therefore, this water-resistant flooring is ideal for damp rooms.
The extremely resilient panels are insensitive to pressure points, micro-scratches and stains.
The floor is covered with an anti-bacterial coating (A.B.C.). Coating is provided. This makes it particularly hygienic and can be easily cleaned.
Thanks to the thermal properties of the hard vinyls, the floor offers a pleasantly soft surface that is warm to the feet.
So if you are looking for a particularly moisture-resistant flooring, your choice should be Krono Xonic.
Laminate Flooring for further rooms